With the evolution and emergence of technologies, the marketing landscape has undergone massive transformation today. Nowadays consumers use so many devices to complete day-to-day tasks, multiple social media platforms to get information and shop across multiple online stores. This gives marketers a reason to focus on a holistic omnichannel experience that ensures your brand is always connected to customers and delivering consistent messaging. If you are the owner of an ecommerce business, then you can make use of omnichannel marketing strategy and outshine your competitors.
Being an ecommerce owner, your major purpose is to deliver seamless experience to your customers and to fulfil this purpose, you require multiple channels. All these channels may not be superfluous in terms of visual or text messages. Here comes the need of using the omnichannel strategy.
What is the Omnichannel Marketing Strategy?
Omnimedia or omnichannel marketing strategy refers to the use of cross-channel marketing strategy for enhancing the relationship of a business with its customers across all relevant channels and touchpoints. These channels may include both digital and physical channels. In a way, the omnichannel strategy helps you to provide an integrated seamless shopping experience to your customers.
Omnichannel marketing is all about creative integration of the physical world with the digital world. Brands like Disney, Sephora, Topshop, Pepperfry have seamlessly merged online and offline experiences with their eye-catching billboard advertising, mobile responsive websites, apps designed to give easy access to products, services, offers and interactive options are
For instance, by using omnichannel marketing strategy, you can provide re-targeting ads to customers who have abandoned products in their carts from your website or you can send text messages or e-mails to customers for making them aware of sales event or offers in the physical stores as well as online stores.
Steps to Craft your Omnichannel Marketing Strategy
Omnichannel marketing relies on technology giving the customer the ease to access to all channels with single sign-in, a robust CRM, good customer service and location data to provide personalization. A simplified user experience is what customers are looking for and willing to pay. Brands that invest in reducing friction and make it convenient for customers will always have higher sales.
House of Fraser innovations and digital adoption of omnichannel marketing is reaping benefits. They encourage multi-channel shopping on their app, buy-and-collect service, code outfitted mannequins to transmit information and offers to customer's phone, buy in-store, online or use display windows that direct shoppers to the mobile website.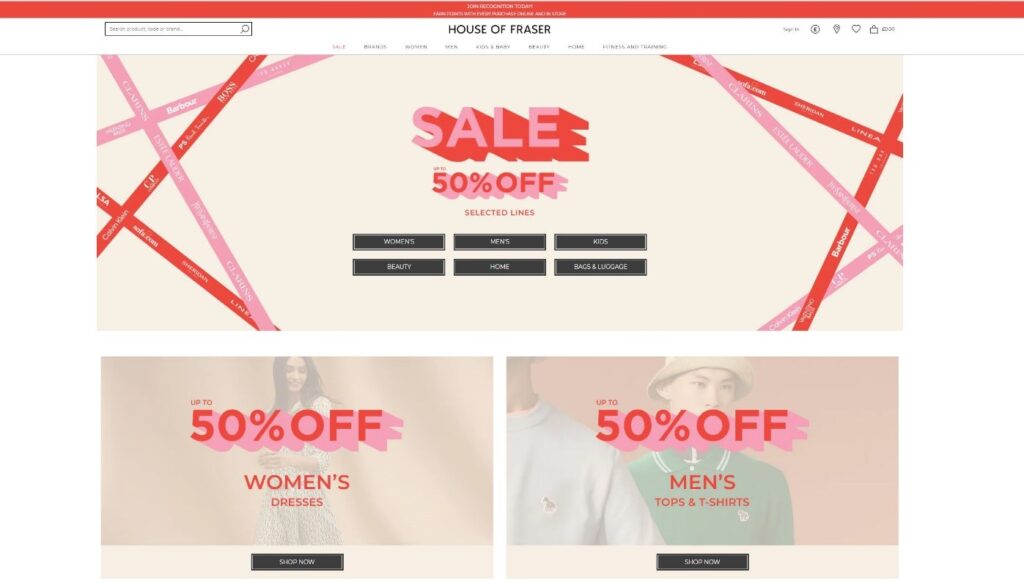 The pandemic has driven many brick-and-mortar stores towards digital acceleration. With 80% of its stores shuttered, H&M also set up its digital platforms to redirect flow of customers to its online platforms during the lockdown.
Here are the key steps that you need to follow while devising your omnichannel marketing strategy:
Map the customer journey
Omnichannel marketing is intended at enhancing the online as well as offline experience of your customers. In today's digital world, the majority of smartphone users are found to purchase products online by means of their mobile phones. As such, it is necessary that you design your website to make it accessible in all relevant devices, particularly mobile phones. Gain insights into customers pain points, needs and major milestones to understand how engage with them on different platforms and communicate effectively to reduce friction during an online purchase process.
Prioritise your customers
One of the crucial factors that determine the success of omnichannel marketing is the appropriate evaluation of customers' journey. You need to identify all the touchpoints or channels that your targeted customers come across before making a purchase. For facilitating your omnichannel marketing, you need to evaluate if these touchpoints are effective and consistent in delivering the best experience to customers.
Segment the customers
You need to determine the needs, wants, expectations, behaviours, demographics, and goals of your target audience. By identifying and analysing the trends or patterns in customers' purchase behaviour or their preferences, you can deliver an appropriate marketing strategy. You can further utilize the patterns of buyer personas, the channels they used in purchasing and other relevant data to segment your audience.
Create compelling content
Omnichannel marketing involves website, social, emails, blogs, videos and virtual events, all of these are driven by rich compelling creative content. It is the most challenging and time-consuming aspect of modern marketing. Content needs to be consistent, cohesive, and complementary across channels to provide a synchrony in design, messaging, goals and objectives. Repurposing content is one of the most effective strategies to create a variety of unique pieces that perform well on different platforms. With the right content marketing strategy, omnichannel marketing can help your brand connect with new customers, build connections, and turn audiences into brand advocates.
Personalise and provide cross-channel support
Customers always like to feel appreciated. Successful personalisation may help customers in interacting with your brand efficiently, making them more connected. Apart from that, you need to extend customer support across all channels such as social media, e-mails as well as telephone calls.
Use the right metrics to test your success
For getting accurate and actionable insights to your omnichannel marketing strategy, it is essential to utilize the right tools and metrics. Right metrics would enable you to gather relevant data and revise and improve your omnichannel strategy. Make sure all data is captured for future analysis, refine buyer personas and revise messaging.
Conclusion
Omnichannel marketing does not require you to use a lot of marketing channels. Instead, it suggests the need of making the most use of whatever channels you have deployed in your marketing practice and that are relevant to your customers. Customer expectations are rising, brands that are engaging with customer with creative use of apps, customised devices, creating in-store and online ease of purchase, location tag and directions, etc. So, to increase the lifetime value of your customers through best omnichannel media marketing efforts, get in touch with a trusted and affordable digital marketing company and boost the sales of your brand.